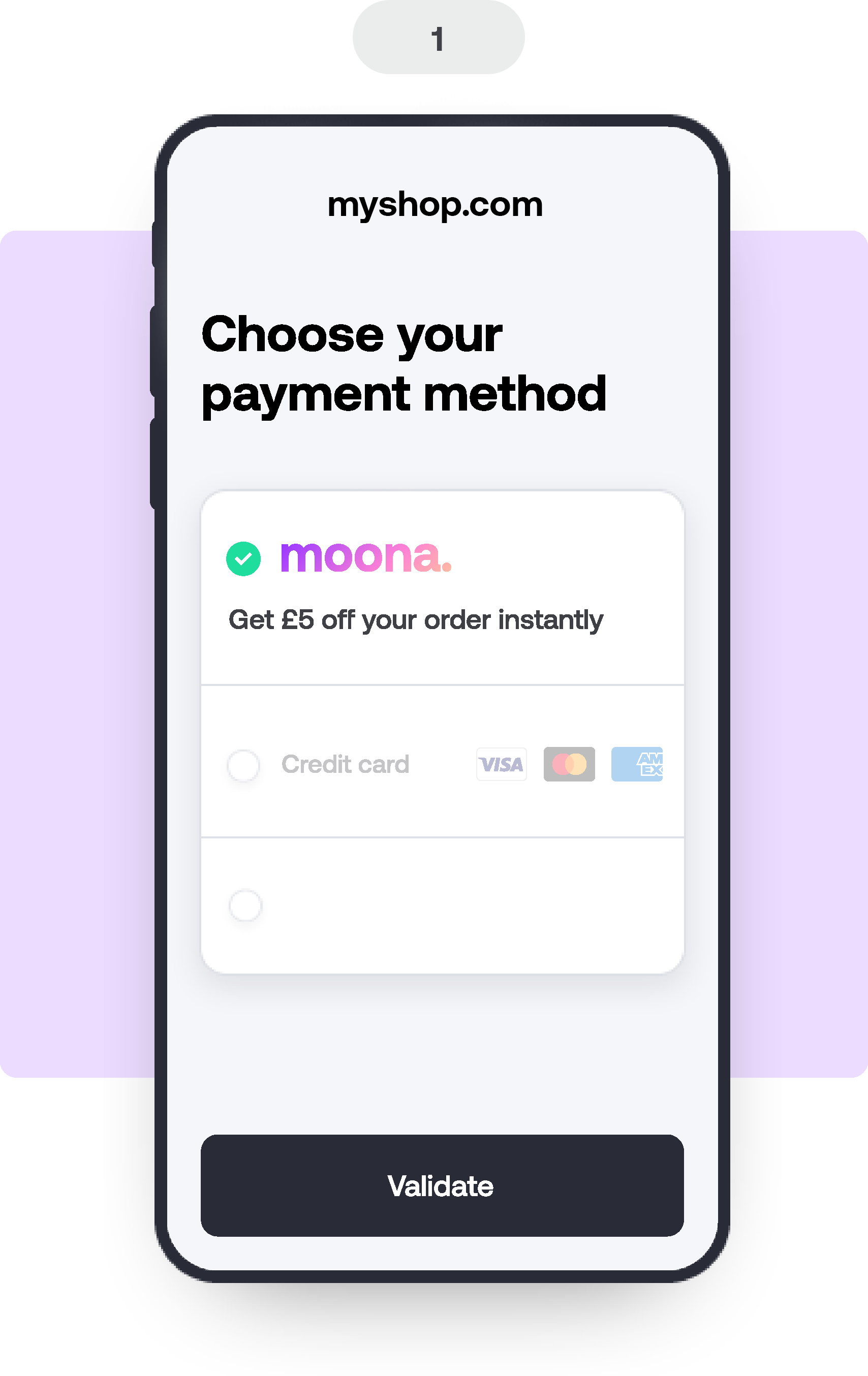 Moona selection at payment
Whilst shopping with Moona's merchants at checkout, if shoppers choose Moona as a payment option, shoppers get £5 from Moona on that order.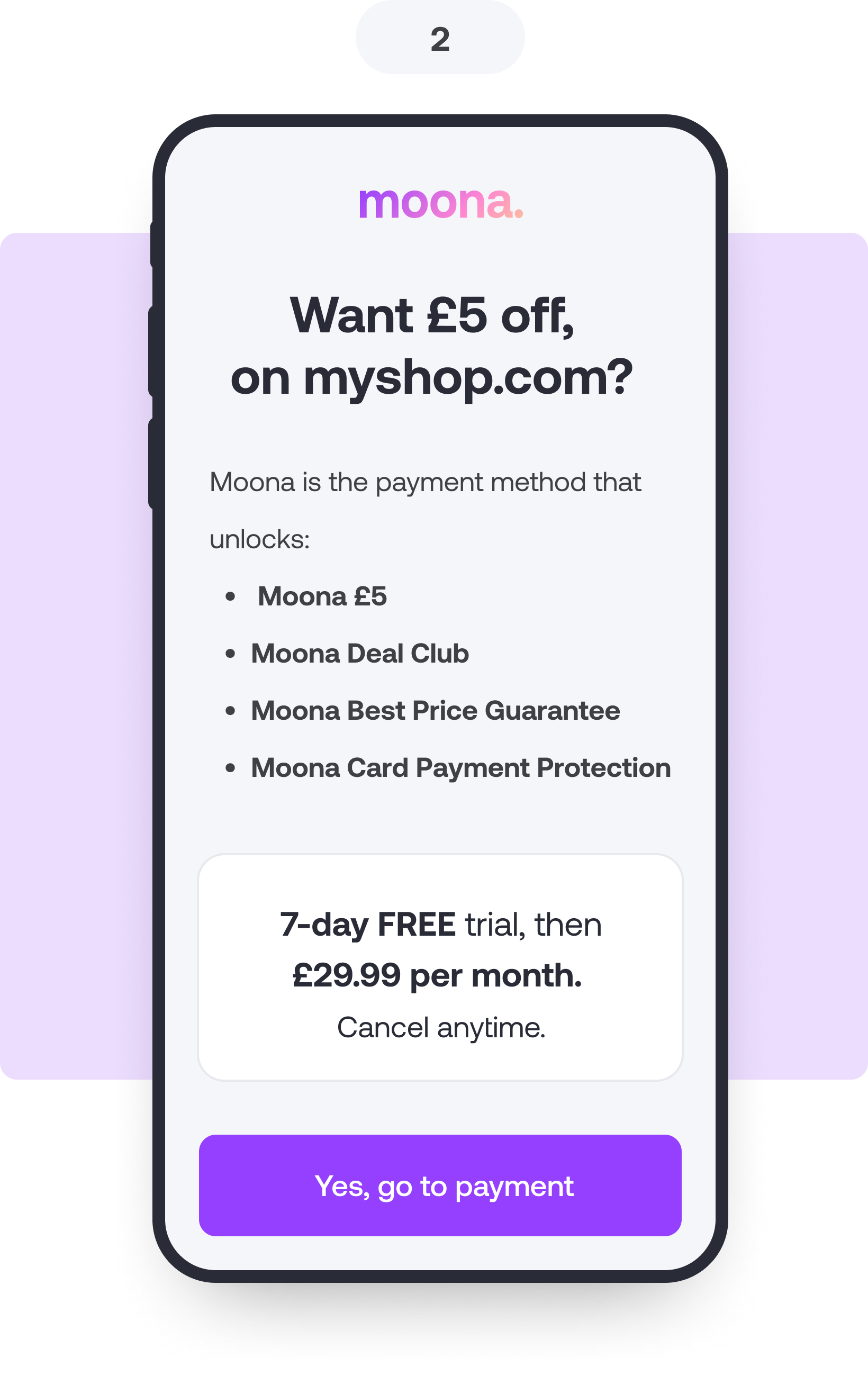 Shoppers choose to become a Moona member. After a 7-day free trial period, they pay £29.99 per month.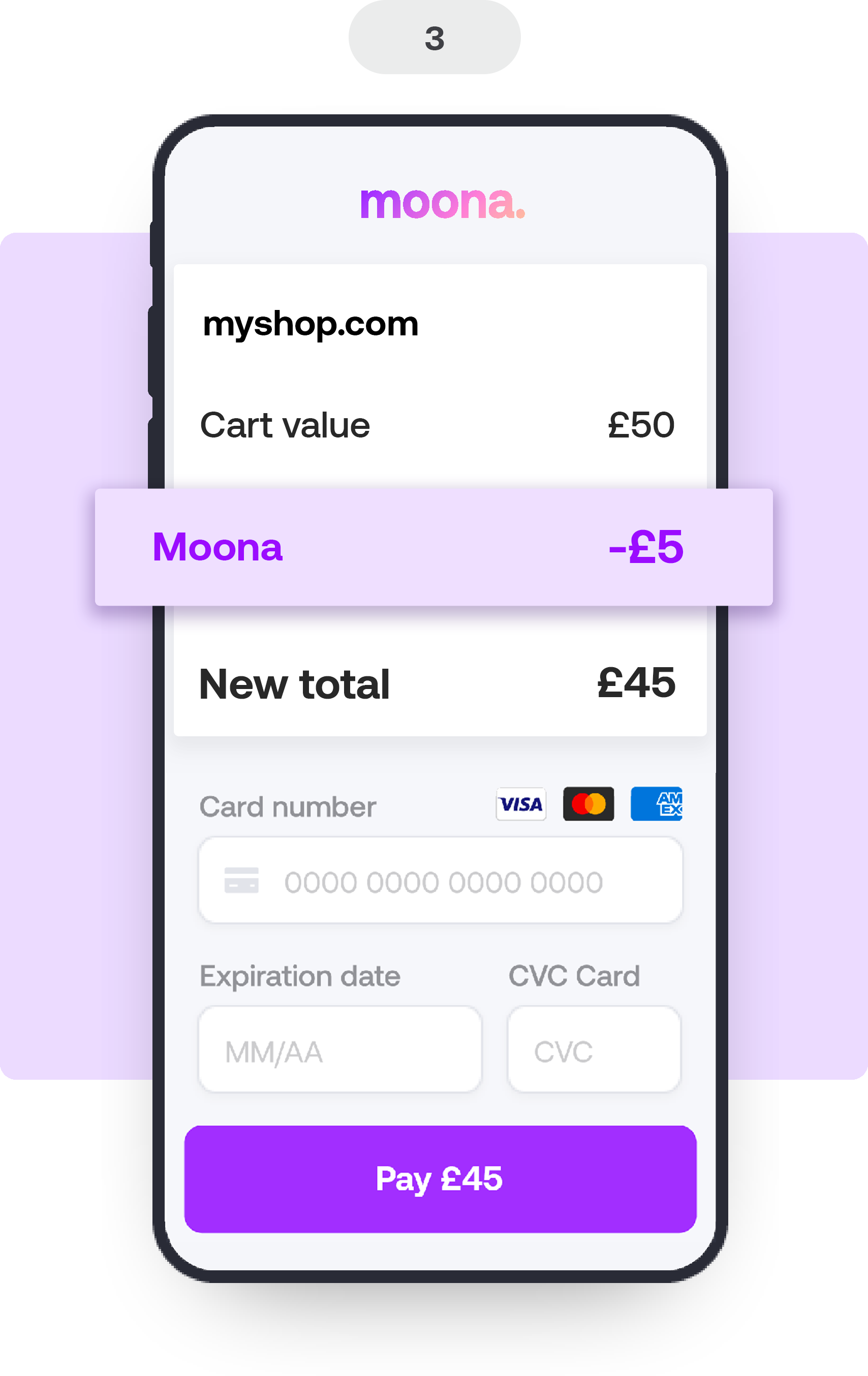 Moona gives unlimited £5's
Shoppers receive their first £5 immediately and complete their payment with any debit or credit card. Once payment is complete, they go back to the store, just as with any payment solution.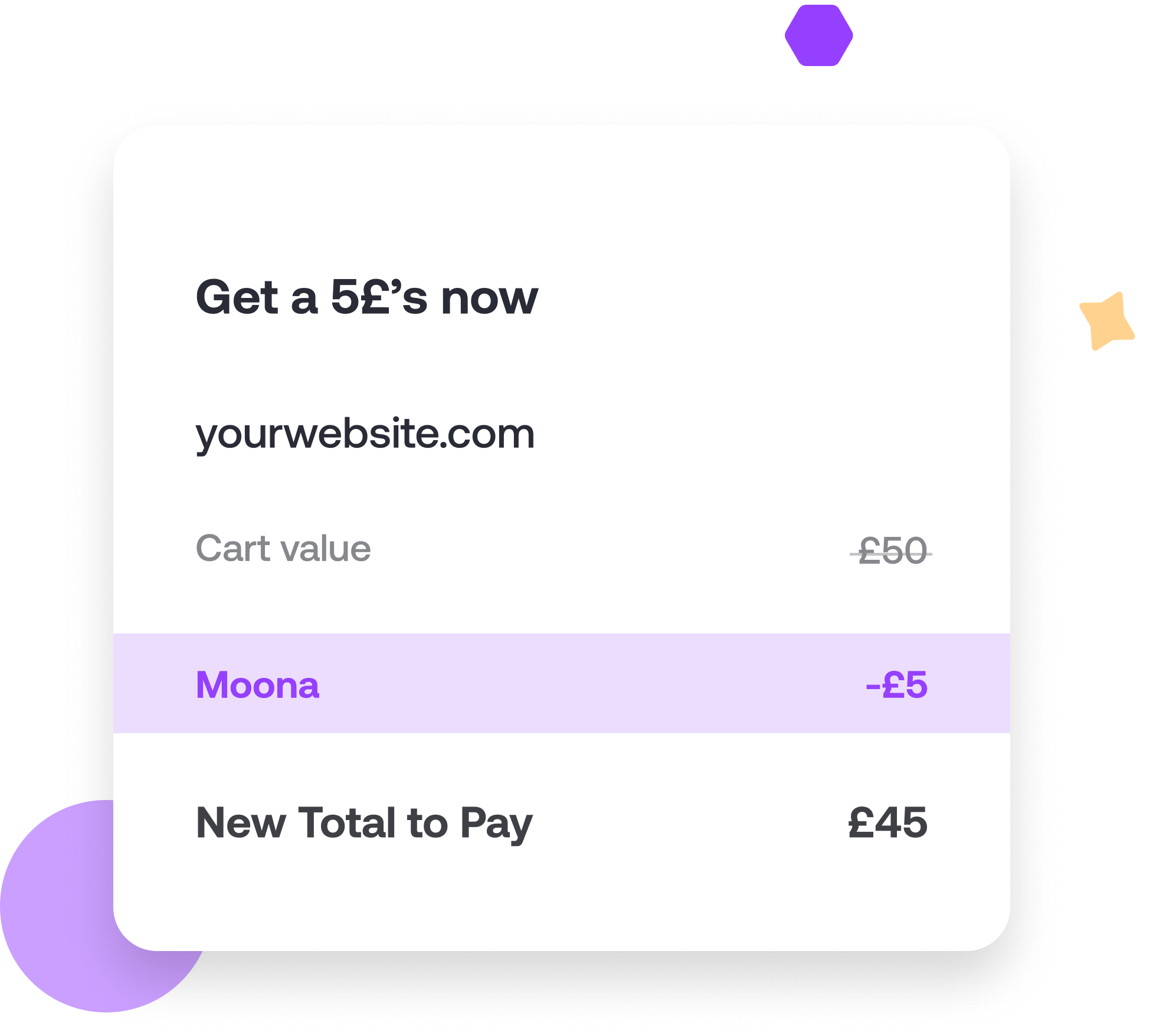 Moona funds 100% of the £5's we offer to your customers
Moona's model is based on a membership fee paid by shoppers, for which Moona gives them £5 to spend on each order – at no cost to you.
We cover the cost of each £5 and our services are 100% free for merchants with no hidden fees. More details here. 
A unique product to increase your sales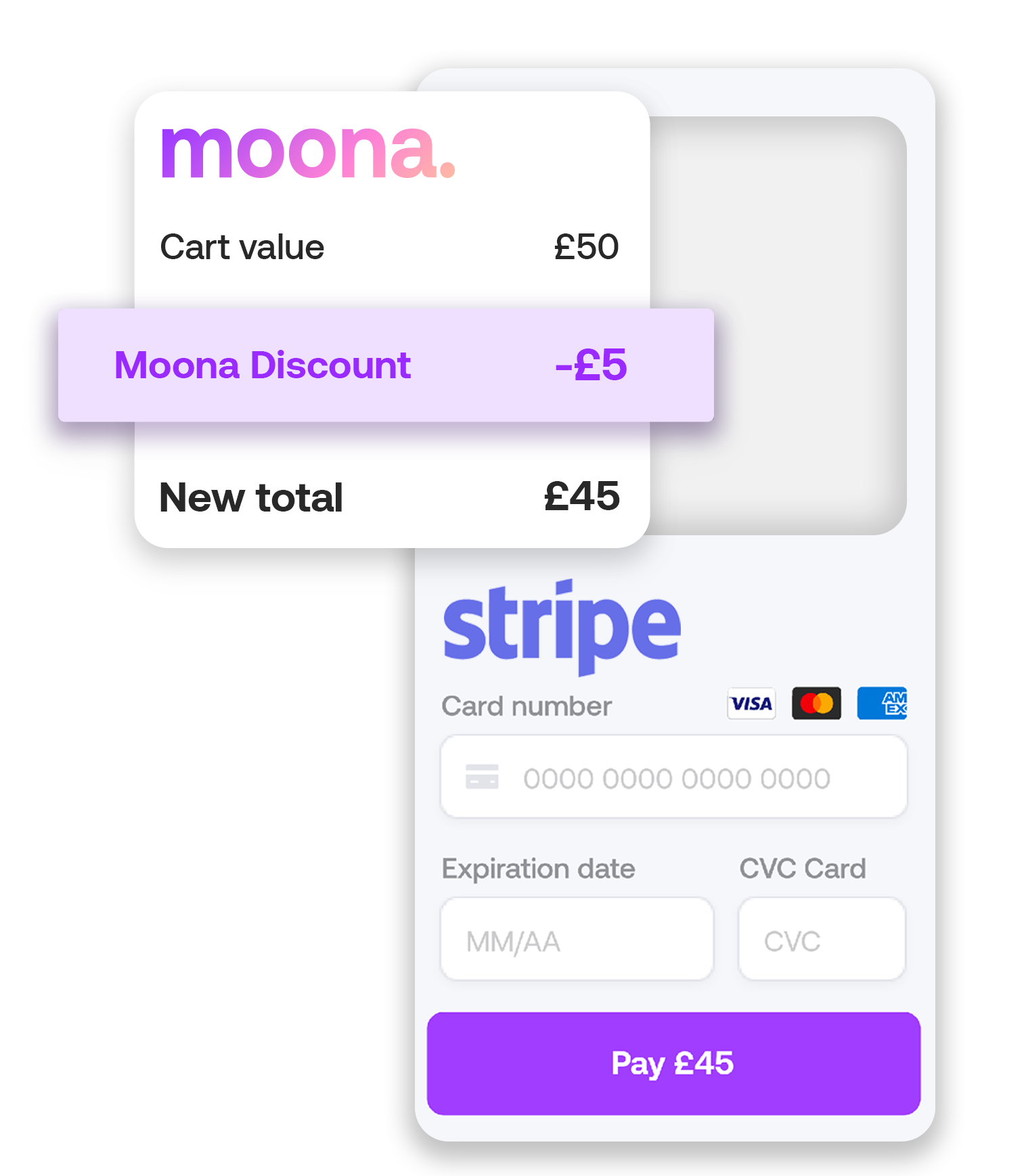 Our Plugin is located at the most critical stage: checkout.
The combination of both Moona £5's and Stripe payments has created a unique product to fight cart abandonment.
This partnership allows us to fund £5's on your behalf at the payment stage to increase your conversion rate and repeat purchases.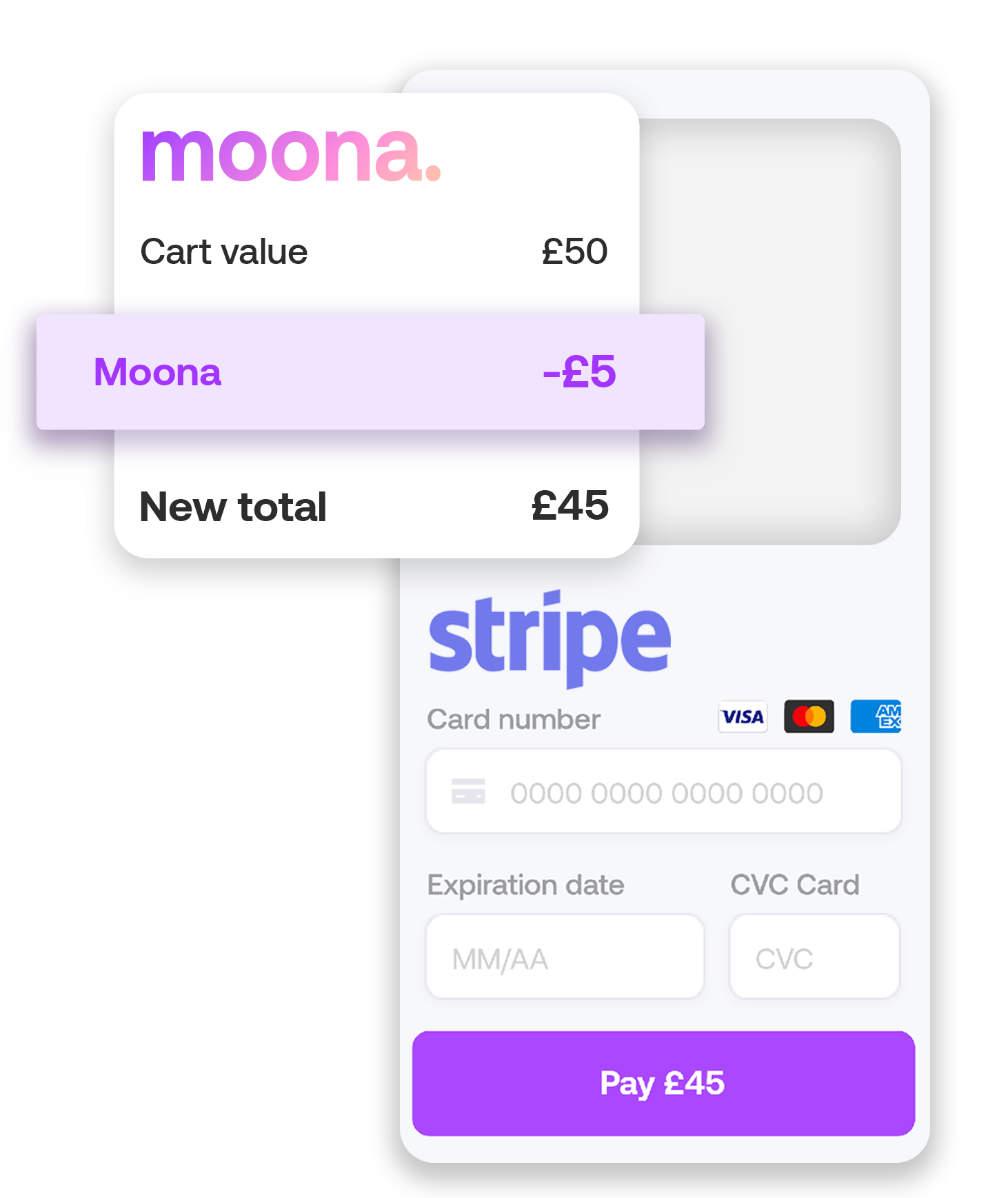 Moona is available through the leading e-commerce platforms, and can be integrated directly into your site in a few clicks. No coding required.
Our simple and seamless integration means that Moona will automatically update, so you'll always have the latest version of our payment solution to offer your customers.
We always love hearing from our merchants, and we actively encourage you to share your thoughts with us at every opportunity.
I got £5 off I don't know why but im not complaining 🤣
Donna McCafferty
2021-08-22
Since adding Moona to our ecommerce site... Since adding Moona to our site, we have seen many people using this option. It's a no brainer for them really and have seen quite a few repeat orders using the discount again. Great service and hopefully will continue to grow.
Tracy Sutcliffe
2021-08-20
Absolute pleasure to deal with simple set up. Rachad was so helpful and best of all my customers love it and started using within 10 minutes of going live on our site. Highly recommended
RINZIVILLODAMIANO
2021-08-19
Quick order, hope delivery is as quick
Ideal modest nightwear available Second time I ordered night clothes here good quality and reasonable price.
5off 🤩🤩 Mona giv me £5 off
Your customers get £5, courtesy of Moona, to spend on every order. Our payment solution automatically includes the £5 from Moona in the amount paid by the shopper at the payment step.
With Moona's simplified payment process, shoppers can checkout seamlessly in 1 click.
Stripe-powered technology means credit card details stay safe, always.
Moona's network of retail partners helps customers discover new shops that offer them £5's instantly and a seamless payment process.
With unlimited £5's, more shoppers complete their orders and fewer abandon their cart at checkout.
When customers know they can pay in 1 click with Moona and get £5's instantly every time, they'll come back to shop more often.
Saving £5 of their own cash on every order means customers are willing to add more to their carts, increasing your average order value.
Yes, you read that right. £0 set-up fee, £0 per transaction and 0% on volume.
Because we use Stripe technology, payments are made safe for your customers and you stay protected against fraud.
Getting started with Moona is easy for all WooCommerce and Magento stores. More e-commerce platforms to come soon.
Shoppers are actively looking for retailers where they can get their Moona £5's, boosting exposure and traffic to our network of partners.
We cover the £5's we give to your customers on each order. It won't cost you a thing, as our model is based on paid memberships for shoppers.
Moona is available through the WooCommerce platform, and can be integrated directly into your site in a few clicks. No coding required.
Our simple and seamless integration means that Moona will automatically update, so you'll always have the latest version of our payment solution to offer your customers.
Moona transform the world of e-commerce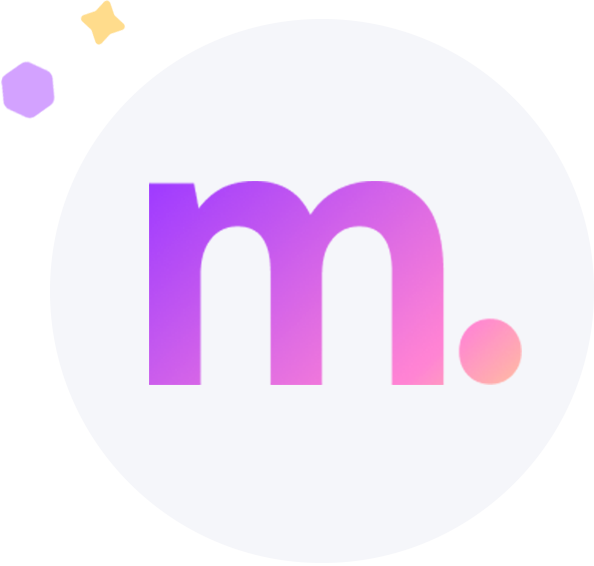 Our platform will ensure your customers get £5 on every purchase they make without it costing you a penny! 
Abandoned carts are one of the biggest challenges that e-commerce businesses face. Moona payment is designed to reduce abandonment by encouraging customers to complete their order because they instantly receive £5 from Moona towards their purchase on your website. 
Of course, Moona payment is not just about reducing the number of customers abandoning their shopping carts before completing a purchase. By Moona offering customers £5, consumers are more likely to increase the number of items they buy.
Customers are also far more likely to return to an e-commerce store knowing that they will be able to receive £5 from Moona with every purchase. Research has shown that it costs up to five times as much in marketing to attract a new customer compared to retaining one. That's why Moona increases retention rates and boosts your profits! 
Our online payment method is designed to put the customer first whilst giving businesses just like yours the ability to grow. Moona utilises Stripe technology, ensuring all transactions are completely secure. 
And whilst we are giving customers the opportunity to receive from Moona £5 with every order they make, the Moona online payment method is completely free for merchants. We'll even help increase your brand awareness by promoting your brand to our network of customers.